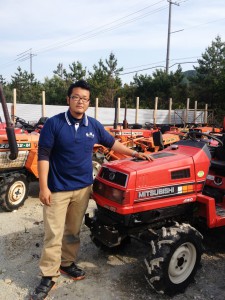 To become your global partner,
KHS will meet the needs of our customers.
Spring 2014, KHS was off the start.
In the company of export business of used agricultural machinery, and involved the purchase, repair, container shipping operation, I have been exporting goods to customers in Asia and Europe and many other so far.
I am proud to MADE IN JAPAN.
I would like to provide to the world the great products and technology of Japan.
For the satisfaction of our customers around the world, with the aim of high quality container products
and quality support fine-grained polite.
Manager, KAZUSHI HATAKEYAMA
Our Staff

KHS LTD. consists of small number of employees, but we are well skilled and experienced.
Through our experience in shipping over 900 containers, we gained knowledge of exporting as well as the experience in detecting the condition of the used farming equipment.
With over 30 years of experience in repairing used farming equipment and automobiles, our maintenance staff can meet the specific demand of our customers. We also provide sincere services by answering your questions, etc. even after the product has been shipped out of our warehouse.
With a high quality product and a great sensitivity accompanied by smooth operation, KHS LTD. provides a service that is satisfactory to all customers.